For our first lesson on the hedgehog in 1st & 2nd grade, I found a simple labeling project for the kids. I got it from Zaubereinmaleins.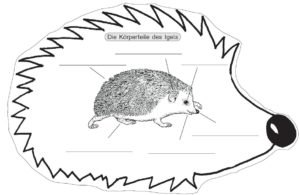 I decided to leave mine as a full page, since I'm only using one of her pages from this Igelheft. Before we did the labeling, we reviewed some body parts in German and then sang "Kopf, Schulter, Knie und Fuß". It was a nice opportunity to get the kids moving, too.
Next week, I want to talk about where in the world you can find hedgehogs. As I mentioned in my last post, they are the most common mammals in Germany. Yet they are not indigenous to North America! So I created a worksheet for the kids to label on which continents hedgehogs live. I decided my first version was too difficult for little hands to color, so I ended up making two versions. One where they just color the matching box to "check it off" and one where they could color in the continents.
For the second worksheet, the kids can just check off the continents. Or they can also color them in. They could even be challenged first to see if they can color in Germany in a different color.
I found this image on Junior.de to use as my guide:
You can download the PDF of the worksheet here:
Our next hedgehog lesson will be about the habitat of the hedgehog. Stay tuned!